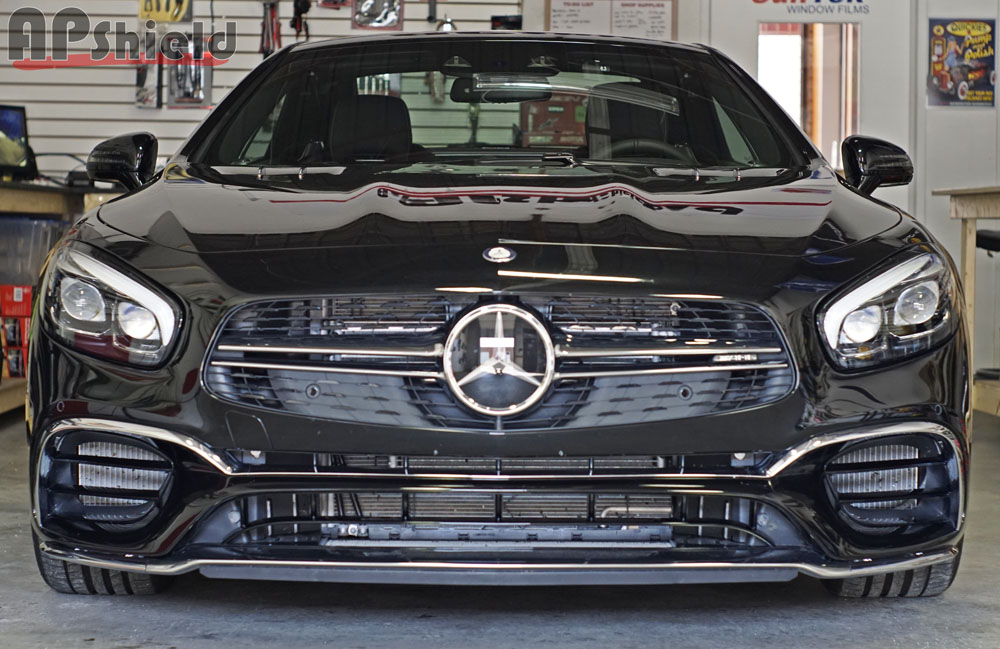 SL65 AMG + XPEL Ultimate
When the engineers at Mercedes decide to make a statement, they sure did not disappoint with the SL65 AMG.  They stuffed a V12 Bi-Turbo motor with 621hp, that propels this panzer tank to 60 in only 3.7 seconds. This thing is the equivalent of a F16 Fighter jet.  So it's a no brainer that it was sent to us to be protected with XPEL Ultimate PPF.
When you own a vehicle that is so over the top, you'll refuse to settle for anything less than awesome.  We opted to use XPEL Ultimate paint protection film to preserve the immaculate black paint and chrome trim.
The convertible roadster was meticulously washed and decontaminated prior to starting the installation of the XPEL Ultimate PPF.  
The SL65 AMG opted to go with our Package 3 of the XPEL Ultimate stone chip film.  Check out the close up of the XPEL DAP templates for the bumper.  The grills have perfect cutouts that were perfectly installed.  The edges are also tucked so any high impact areas are covered, without any visible seams.  Small details such as the grills, chrome pieces and lips are never overlooked by us at AP Shield.
Sure, applying Paint Protection Film to the front end is a no brainer, but how about those other high traffic areas?  The SL65 AMG has such fine details everywhere, and the polished chrome door sills are too nice to leave unprotected.  The factory film was removed and we installed our PPF to protect the mirror chrome from scuffs and scratches causes by shoes, boots or heels.  Door sills are commonly overlooked to protect, but highly recommended.  Nothings worse than having a scratch you see every single time you open the door!  Remember, if its smooth and paint like surface, we can protect it.
All done! Check out the shine and invisible protection
And there we have it, all finished.  Just check out that shine of the self healing XPEL Ultimate PPF.  The full hood, full front fenders, full front bumper (including all the chrome trim and grills), side view mirrors, rockers and door sills have been wrapped and protected.  The owner can now enjoy this incredible machine without the fear of unwanted damages to the paints finish.