Paint Protection Film
WHY PAINT PROTECTION FILM?
Protection
Paint Protection Film (ClearBra) provides a shield on your paint protecting the finish from rock chips, minor scuffs, bug splatter and what ever the roads throw at your car. As a result, your vehicle will look "forever young"
Enhancement
Paint Protection Film, when installed, offers a depth of shine as if your vehicle was freshly detailed. Full PPF wraps give your vehicle a true, swirl free finish for a decade!
Self Healing
All of our PPF films that we carry offer a Self Healing layer, which will make any surface damages such as scuffs, lights scratches or swirls simply disappear. Pour some warm water or park your car outside in the sunlight to active this layer.
Replacement
What if the damage is beyond the self-healing layer? We simply just have to replace that one panel of your vehicle that has been damaged.
Time & Convenience
In the event that a panel of PPF must be replaced, the turn around time is extremely quick. No need for repainting and waiting a few weeks to get your car back from the body shop.
Resale Value
Having clear bra on your vehicle will help in maintain its resale value. Keep the front end protected from stone chips and sand blasting, in turn the new looking paint will help retain a higher resale value if you ever decide to sell it.
TOP SELLING PACKAGES
---
XPEL Ultimate
Product Thickness: 8.5mil
Warranty: 10 Years
Made in: USA
XPEL ULTIMATE's special clear coat not only prevents the film from discoloring due to contamination and ultra-violet radiation, but also heals itself from swirl marks and light scratches that can occur through ordinary washing and drying or daily driving.
Contaminants like bug splatter, bird droppings, sap and road tar wipe off XPEL ULTIMATE's super-slick surface with a cloth, while scuffs and light scratches in the surface of the film disappear within minutes in the heat of the sun or the warmth of your garage—leaving your car pristine and the protective film like new.
And this level of protection comes without compromise. The mirror smooth finish of XPEL ULTIMATE ensures that no unwanted texture, commonly referred to as "orange-peel," is added to the appearance of your car, leaving the protected surface indistinguishable from the factory paint. Professional installation by one of our network of factory trained installers ensures exact alignment around surface features such as air inlets, parking sensors, headlamp washers and other design elements, while the film along the perimeter of each panel is wrapped around the edges for a truly invisible barrier against the hazards awaiting you on the road.


---
SunTek Ultra PPF
Product Thickness: 8mil
Warranty: 10 Years
Made in: USA
SunTek Ultra PPF is the latest paint protection film on the market released in the first quarter of 2017.  If you are looking for a film that is optically clear, hydrophobic and backed by a 10 year warranty, look no further.
The recent update for the SunTek PPF Ultra is the top-coat of the film.  The top coat has been now modified to add even more gloss, extend the warranty to 10 years, and bead water.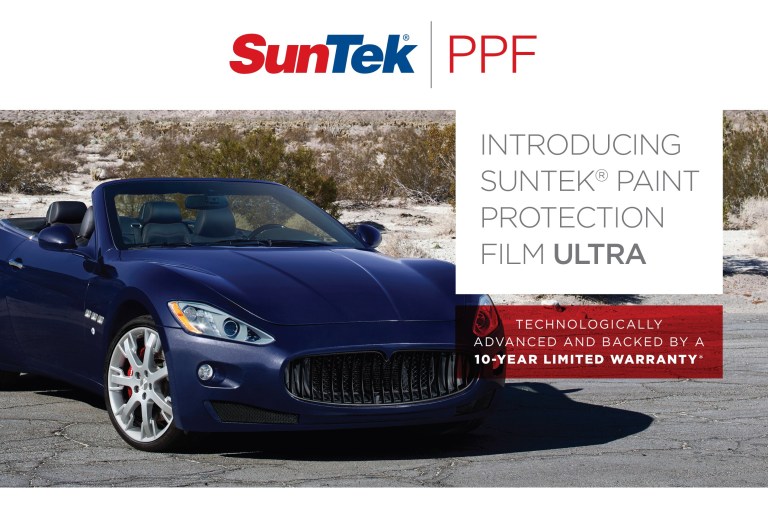 ---
XPEL Stealth
Product Thickness: 8 mil
Warranty: 10 Years
Made in: USA
XPEL STEALTH comes in a satin finish that preserves matte paint in its showroom condition. Matte finishes are notoriously difficult maintain and even harder to repair—even something as simple as touching up a rock chip. XPEL STEALTH not only prevents damage from road debris and bug acids, but enables you to easily wash and dry your car without fear of changing the luster of the finish.
Matching the sheen of most factory matte paints, XPEL STEALTH disappears once applied, making it a perfect choice for transitioning between vulnerable areas on the front of the car to unprotected top surfaces. And just like XPEL ULTIMATE, swirl marks and light scratches disappear in a matter of minutes in the sun or the warmth of your garage.
---
Hexis BodyFence
Product Thickness: 6 mil
Warranty: 7 Years
Made in: France
The new BodyFence range has been developed by HEXIS R&D based on cutting-edge technology and will protect your vehicle against external aggressions : Scratches, Stone chips, Abrasion, UV rays… In addition, the film makes cleaning easier by preventing dirt from adhering to the paint. It will keep your vehicle…
…Forever Young!
HEXIS, self-adhesive film manufacturer for over 25 years !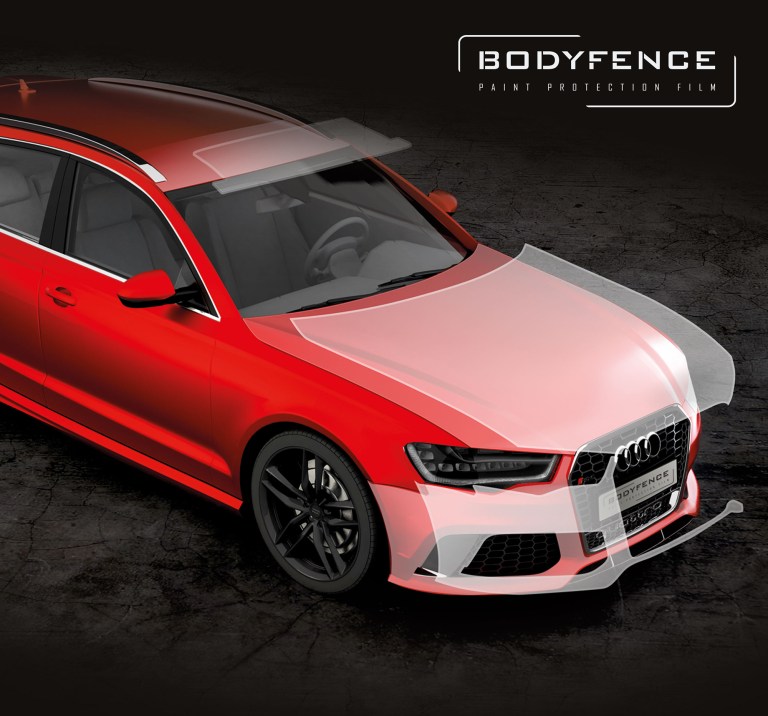 Ready to find out more?
Drop us a line today for a free quote!
Click Here